The new shirts are here!
Complete with the new logo and URL. These colorful new sweatshirts and tees are the best way to show your support for Walt Disney's Carousel of Progress.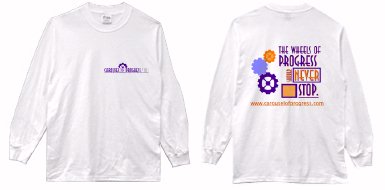 The new "Save the Carousel" campaign short sleeved t-shirts are available in the following sizes:
Children: Small, Medium, & Large
Adult: Small, Medium, Large, XL, XXL!
Also available are the new long sleeved tees, grey sweatshirts and mousepads. Any of these will make a great gift for Disney fans.
To order, or for prices, click on the shirts above or just go here!